Maris and the merry men*. 
Brian Benfer
This marked the 20th year of a series of events organized and run by Maris Grosbahs in Roja, Latvia. While the format and name of the event has changed slightly over the years, in essence his commitment to the larger arts community, and the local village in which he was raised, remains the same. Founded primarily as a means by which he and his fellow students could continue working throughout the summers, he started with nothing more than a small kiln and a group of people interested in coming together to create. Initially called ROJARAKU, this ceramic-based event enabled a physical space to work and a community of young and aspiring artists to exchange techniques, processes and information related to ceramics—actually so ceramic-centric that it would include a ceremonial raising and lowering of a small ceramic jug atop a flagpole on the center of the property.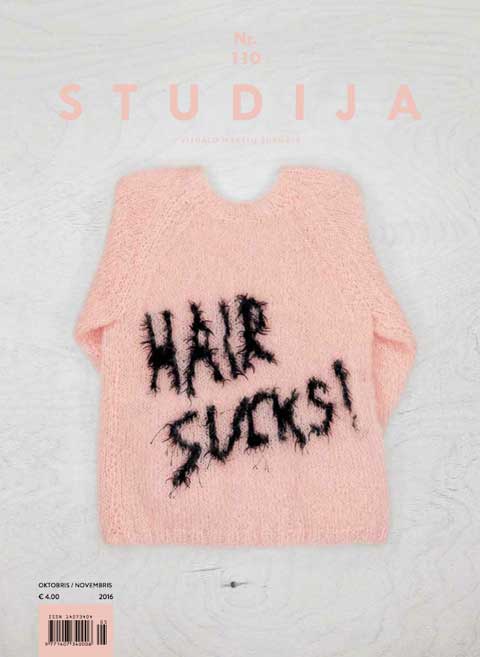 As all things eventually develop and change over time, so has the event. What started as a gathering rooted in ceramics has gradually moved into more of a think-tank for a larger conversation surrounding ideas and concepts. Concerns have become more related to contemporary art than technique, the dialogue surrounding ones conceptual prowess and an environment divorced from any one discipline or material specificity. One thing that has remained consistent throughout is Maris' desire to bring contemporary art and international artists to a small fishing village in rural Latvia.
This year there was a stable of talented and inspired individuals from around the world. All with different material aesthetic sensibilities and conceptual précises, all sharing their work and ideas, coming together to make work and experiment. I use the label specifically as I know it is something that is important to Maris, our conversations regarding labels covers the gamut of events, people and work within contemporary art. For him, the event is meant to be a place where people are encouraged to experiment with the word "failure" being nonexistent. His event, now titled ROJA ART LAB is meant to be just that—a place where people come to try new things in a supportive, judgment-free environment. This is something that becomes increasingly important as we mature artistically, the freedom we once had as aspiring artists and students gets transformed into some type of framework regardless of whether we are aware of it or not. Whether aesthetically mounted, materially oriented, conceptually framed, the way in which we see and interpret all information via our psyche creates a series of ways we see the world and convey what it is we are exploring. To have the opportunity to move outside of ones comfort-zone and be encourage to fail is a beautiful thing and having both established, as well as emerging artists participating, contributes to the nature of this overall philosophy of the lab.
The work being made this year specifically covered an array of concepts and material sensibilities, and there were pieces ranging from traditional objects and materials/processes to utilizing new media and contemporary technological. Jamie Allen researched various towers in the region, denoting aspects of tracking, mapping, and communication as well as discussing historically the navigational aspects of maritime life. His recreation of a tower (10:1 scale), capable and in fact intended to travel and move around the village, to him will be as arbitrarily located as the actual towers themselves as people are encouraged to randomly relocate the object. Vasili Macharadze's piece dealt with an infrared light source he situated atop a historical totemic architectural structure near the sea that was left from the time of the German occupation. It exists as a pseudo contemporary-day pirate technique for misleading vessels seeking their coordinates, and while this type of light is an obvious variation of what was traditionally used, its intent was a present-day variation of this method of navigation. Zanda Puče utilized a homemade recording device to document "sounds of the earth" by placing probes into the ground in various places around the Roja area. This device, primarily reading electromagnetic waves, was meant to record the range of sounds emitted in the region. Yoshie Sugito explored local clays and materials to create dioramas referencing her Japanese background and classism associated with the tea ceremony and contemporary culture. The works also involved the viewers as participants, encouraging their involvement by pouring vessels full of liquid across the tops of the pieces. Gints Malderis reconnoitered the people of the region, taking portraits harkening to passport/ID cards and asking each person what "color" they perceived as quintessential Roja. With an array of variations, he then complied them into a large grid harking to paint swatches of a Martha Stewart home décor paint display. The Estonian duo of Juhan Vihterpal and Kristin Orav combined their interest in performance and music, creating a large pyramid suspended by a cable (intended to be played as an instrument). The two performed for the opening, something referencing a tribal dance and Orav incorporated a ceramic element she had fabricated, interacting with it throughout Vihterpal's drumming on an old oil drum until she released it only to be smashed on a nearby rock. Also contributing as a participant this year, I created an object examining the preexisting physical and psychological residue of the village. By casting a concrete negative of a crateresque form, it was then inverted and placed directly next to the original to insinuate the relationship between opposite views and perceptions of individuals while harkening to the indexical mark.
Having participated in numerous events such as this over the years, ROJA ART LAB is unique in many respects. The involvement of the community and the sincere interest and concern of the local people, their physical and financial participation, and Maris' obvious passion for the village all contributes to defining a truly unique event. I have never met anyone more proud of who they are and where they came from and I feel confident saying that without Maris' involvement, Roja would be known as little more than a summer tourist destination for those seeking a rural, Latvian maritime community. His commitment to contemporary art, and artists, goes beyond his own personal agenda and his influence in the area has spread to other cultural programs that have since been created. He was a founder of RojaL, a now popular international film festival. He has also motivated others to create similar events in the area like the newly formed international architecture symposium currently in its second year. Thanks to Maris, there is now an overall understanding and support of art and artists in the village. The art world could only hope for more people to have such a commitment and influence, bringing what should be accessible to all in small communities everywhere.
*The Merry Men are the group of outlaws who follow Robin Hood in English literature and folklore.
The article was published in the art magazine "Studija" Nr.5 (110). 2016.
https://rojalab.lv/wp-content/uploads/2017/12/1476991128.jpg
657
480
gatispoikans
https://rojalab.lv/wp-content/uploads/2017/11/roja-art-lab-logo.png
gatispoikans
2016-11-18 13:40:17
2017-12-21 13:47:36
Maris and the merry men*.